Wednesday, April 15, 2009
A tweenbot is a simple device that looks like a robot and has the ability to roll forward at a set slow pace. Nevertheless, armed with only this skill, a cheerful cardboard face, and a note requesting help, tweenbots have successfully navigated the streets of New York City.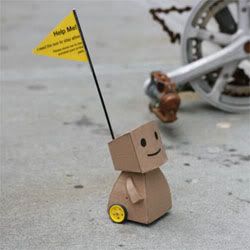 We sometimes see cities and cyberspaces as large, anonymous, and hostile. I think the tweenbot teach us that many people will take the time to pause and point a hapless stranger in the right direct. So long as you keep moving, keep cheerful and have a goal in mind--you can indeed depend on the kindness of strangers.
"The results were unexpected. Over the course of the following months, throughout numerous missions, the Tweenbots were successful in rolling from their start point to their far-away destination assisted only by strangers. Every time the robot got caught under a park bench, ground futilely against a curb, or became trapped in a pothole, some passerby would always rescue it and send it toward its goal. Never once was a Tweenbot lost or damaged. Often, people would ignore the instructions to aim the Tweenbot in the "right" direction, if that direction meant sending the robot into a perilous situation. One man turned the robot back in the direction from which it had just come, saying out loud to the Tweenbot, "You can't go that way, it's toward the road."